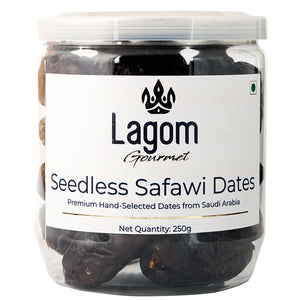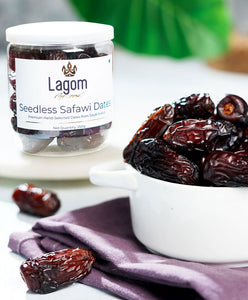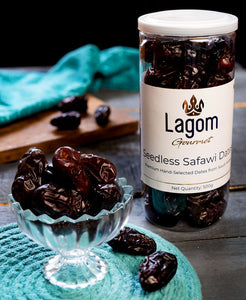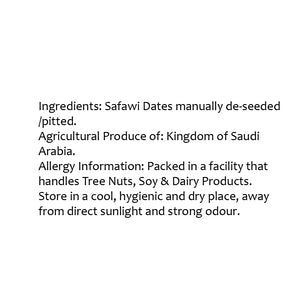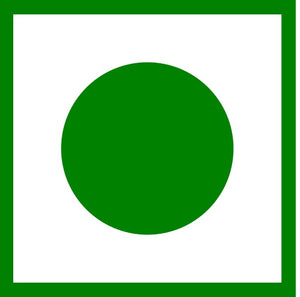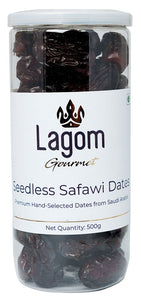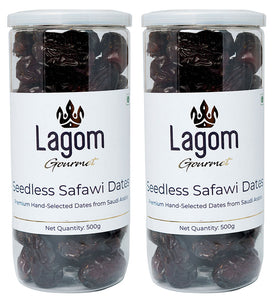 Lagom Gourmet Seedless Saudi Safawi Dates
M.R.P. (Inclusive of all taxes): ₹399.00

Price:
Price per unit:
Net Quantity: Available in 3 pack sizes - 250g, 500g, and 1 Kg.

Premium Seedless Dates.

Agricultural Produce of Kingdom of Saudi Arabia.

Soft, sweet, and full of flavour. Hand-picked and carefully selected quality.

Pet Can with an airtight seal to ensure the product is protected and fresh.

Quality assured - Our products are rigorously tested against the industry's best quality standards.

Hygienically packed in facility meeting FSSAI Food Safety Standards.

Ingredient Type: Vegetarian.

Shelf Life: 8 Months / 240 Days.

Store in a cool, hygienic, and dry place, away from direct sunlight and strong odour in an airtight container and preferably refrigerate after opening the pack.



Disclaimer:
Dates are agricultural products and are not processed. We take the utmost care while sorting and packaging them. Due to nature, changes in temperature and humidity may cause an infestation. We recommend inspecting and washing the product thoroughly before consuming it.
Additional Information:   
Name of the manufacturer/packer: Lagom Food Labs Private Limited.
Address of the manufacturer/packer: Unit No. 127, Building No. E7, Bhumi World Industrial Park, Pimplas, Bhiwandi, Thane. FSSAI License No.: 11521018000490.
Grievance Offer / Customer Care Manager Contact Details: +91 96-99-953952 | care@lagominc.com
Country of Origin: Kingdom of Saudi Arabia.
Common/Generic name of the product: Dates/Khajur.
Net Quantity: 

Available in 3 pack sizes - 250g, 500g, and 1 Kg.
Best before/Expiry Date: 31-12-2023.
Dimensions of the products:
Net Quantity/Size: 250g: 9cm (L) x 9cm (W) x 9cm (H)
Net Quantity/Size: 500g: 9cm (L) x 9cm (W) x 18cm (H)
Net Quantity/Size: 1 Kg: 18cm (L) x 9cm (W) x 18cm (H)