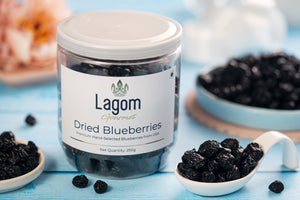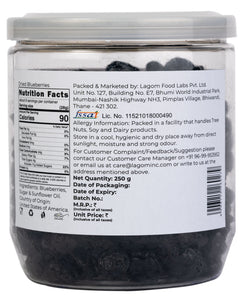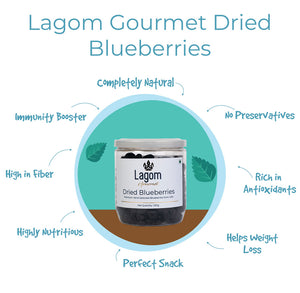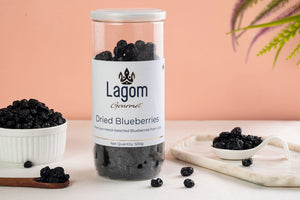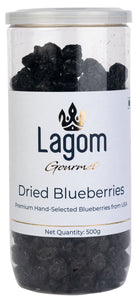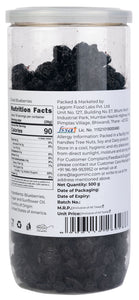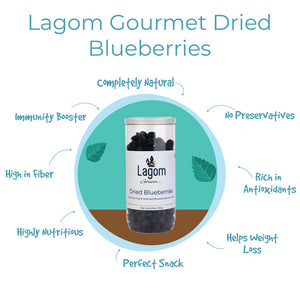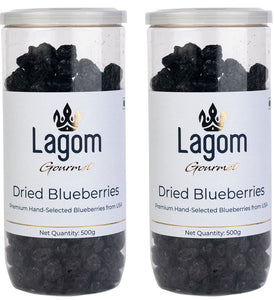 Lagom Classic American Dried Blueberries
M.R.P. (Inclusive of all taxes): ₹699.00

Price:
Price per unit:
Net Quantity: Available in 3 pack sizes - 250g, 500g, and 1 Kg.

Agricultural Produce of USA.

Soft, sweet, and full of flavour. Hand-picked and carefully selected quality.

Zip-lock Pouch with an airtight seal to ensure the product is protected and fresh.

Quality assured - Our products are rigorously tested against the industry's best quality standards.

Hygienically packed in facility meeting FSSAI Food Safety Standards.

Ingredient Type: Vegetarian.

Shelf Life: 8 Months / 240 Days.

Store in a cool, hygienic, and dry place, away from direct sunlight and strong odour in an airtight container and preferably refrigerate after opening the pack.
Dried Blueberries
If you are looking for the best blueberries, then you should definitely try Lagom Dried Blueberries.
These delicious blueberries are perfect for your smoothies and milkshakes. Along with this, you can also use these blueberries for baking cakes and cookies. Not to mention dry blueberries can also be a great way of adding texture to your homemade ice creams, especially for the summer.
If you love to have pancakes and waffles for breakfast, then you can add Lagom Blueberries to them as well.
Lagom offers multiple pack sizes of 250gm, 500gm, and 1 Kg, that can satisfy your cravings even when they are not in season.
Once you open the blueberry pack, you will notice the deep indigo colour of the berries which symbolizes its premium quality.
Blueberries being seasonal fruit are exceptionally high in nutritional value. Some of the more common vitamins and minerals found in blueberries include Vitamin K, Vitamin C, fibre, and copper. It is also considered an antioxidant that can help you achieve beautiful skin. Apart from this, blueberries can also help reduce your cholesterol levels.
Farm to fork
Lagom Dried Blueberries are some of the freshest that you will find and to make sure that we maintain a high-quality standard we have picked each berry from only the best farms in the United States. Once the blueberries are harvested, they are taken to the processing unit where they are sorted and packed in pouches.
Lagom also makes special efforts to maintain high hygiene levels for all its processing units, and it also follows the guidelines provided by the industry. To make sure that all the products are 100% natural Lagom prevents the use of any chemical or preservative.
If you wish to use Lagom Blueberries for a longer period then storing them in an airtight container away from direct sunlight once you open them is highly recommended.
Additional Information:     
Name of the manufacturer/packer: Lagom Food Labs Private Limited.
Address of the manufacturer/packer: Unit No. 127, Building No. E7, Bhumi World Industrial Park, Pimplas, Bhiwandi, Thane. FSSAI License No.: 11521018000490.
Grievance Offer / Customer Care Manager Contact Details: +91 96-99-953952 | care@lagominc.com
Country of Origin:

 United States of America

.
Common/Generic name of the product: Dry Blueberry.
Net Quantity: 

Available in 3 pack sizes - 250g, 500g, and 1 Kg.
Best before/Expiry Date: 31-12-2023.
Dimensions of the products:
Net Quantity/Size: 250g: 9cm (L) x 9cm (W) x 9cm (H)
Net Quantity/Size: 500g: 9cm (L) x 9cm (W) x 18cm (H)
Net Quantity/Size: 1 Kg: 18cm (L) x 9cm (W) x 18cm (H)