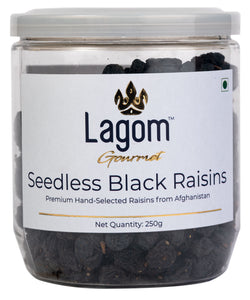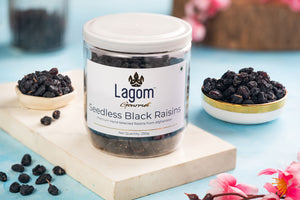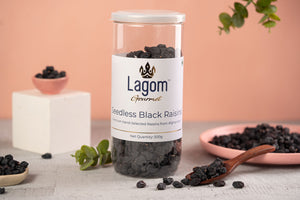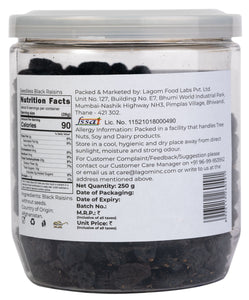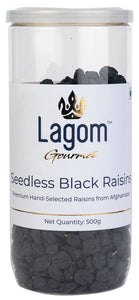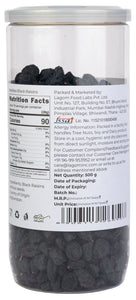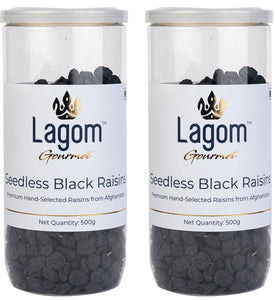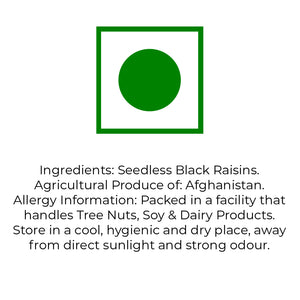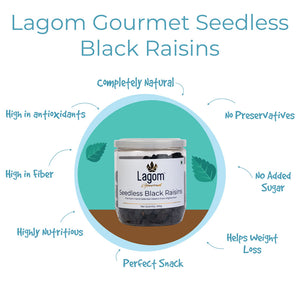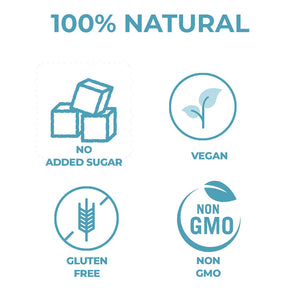 Lagom Afghan Seedless Black Raisins (Kaali Drakh, Kishmish)
M.R.P. (Inclusive of all taxes): ₹249.00

Price:
Price per unit:
Net Quantity: Available in 3 pack sizes - 250g, 500g, and 1 Kg.

Agricultural Produce of Afghanistan.

Fresh, soft, sweet, and full of flavor. Hand-picked and carefully selected quality.

Zip-lock Pouch with an airtight seal to ensure the product is protected and fresh.

Quality assured - Our products are rigorously tested against the industry's best quality standards.

Hygienically packed in facility meeting FSSAI Food Safety Standards.

Ingredient Type: Vegetarian.

Shelf Life: 9 Months / 270 Days.

Store in a cool, hygienic, and dry place, away from direct sunlight and strong odor in an airtight container after opening the pack.
Seedless Raisin Black
If you are looking for the freshest and sweetest raisins online then trying out Lagom Seedless Black Raisins is highly recommended.
Lagom's seedless raisins are the perfect tea-time snack that can be used in almost every kind of dessert. These raisins can also be incorporated into your breakfast dishes like muesli or cornflakes. You can also use these raisins in puddings and cakes for Christmas or New Year. If you love experimenting with food, then these raisins can be used in main course dishes as stuffing.
Lagom Raisins can be bought in 200gm, 500gm, and 1 Kg packs and are so delicious that you won't be able to stop at just one.
As you open the pouch, you will notice its rich black color and softness. These raisins have the perfect sweetness and texture which is ideal for your little ones.
Raisins are a dense source of numerous minerals like iron, calcium, magnesium, copper, and zinc. These delights can prove to be the perfect antioxidant to keep your hair and skin healthy for a long time. Their rich minerals are also the reason why raisins can help maintain a healthy heart and prevent cancer.
On the other hand, raisins can also play a great part in weight loss and reduce the cholesterol level in your blood resulting in a long and healthy life.
Farm to fork
Lagom only sources black raisins when they are available seasonally. These premium quality dry fruits are handpicked from specific farms in Afghanistan and are grown on only the best farms. To maintain the freshness of this product, they are transferred to a temperature-controlled processing unit right after harvesting. To add an additional layer of protection Lagom Raisins are packed in airtight nitrogen flushed zip-lock pouches which keep them fresh for a longer period.
To meet customer satisfaction, Lagom takes special precautionary measures to keep up the quality and hygiene standards of the industry. We also do not add any preservatives during the processing to maintain the natural quality of the raisins.
Additional Information:  
Name of the manufacturer/packer: Lagom Food Labs Private Limited.
Address of the manufacturer/packer: Unit No. 127, Building No. E7, Bhumi World Industrial Park, Pimplas, Bhiwandi, Thane. FSSAI License No.: 11521018000490.
Grievance Offer / Customer Care Manager Contact Details: +91 96-99-953952 | care@lagominc.com
Country of Origin: Afghanistan.
Common/Generic name of the product: Raisins/Kishmish.
Net Quantity: 

Available in 3 pack sizes - 250g, 500g, and 1 Kg.
Best before/Expiry Date: 31-12-2023.
Dimensions of the products:
Net Quantity/Size: 250g: 9cm (L) x 9cm (W) x 9cm (H)
Net Quantity/Size: 500g: 9cm (L) x 9cm (W) x 18cm (H)
Net Quantity/Size: 1 Kg: 18cm (L) x 9cm (W) x 18cm (H)