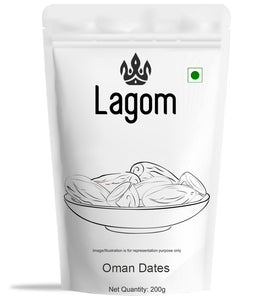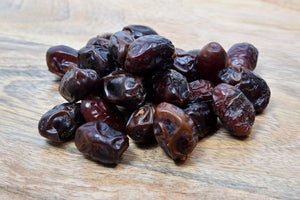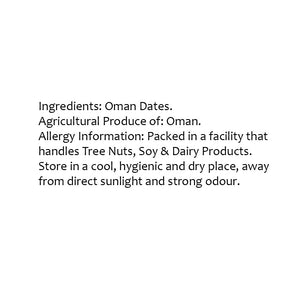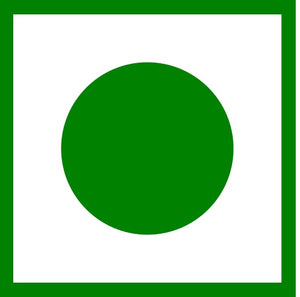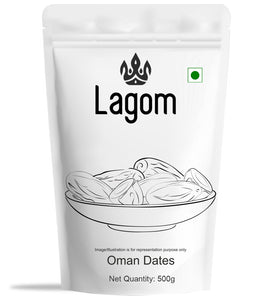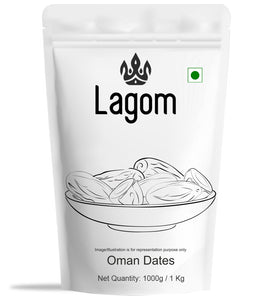 Lagom Oman Dates (Khajoor)
M.R.P. (Inclusive of all taxes): ₹199.00

Price:
Price per unit:
Net Quantity: Available in 3 pack sizes - 200g, 500g and 1 Kg.

Agricultural Produce of Oman.

Fresh, soft, sweet and full of flavor. Hand-picked and carefully selected quality.

Zip-lock Pouch with an airtight seal to ensure the product is protected and fresh.

Quality assured - Our products are rigorously tested against the industry's best quality standards.

Hygienically packed in facility meeting FSSAI Food Safety Standards.

Ingredient Type: Vegetarian.

Shelf Life: 8 Months / 240 Days.

Store in a cool, hygienic and dry place, away from direct sunlight and strong odour in an airtight container after opening the pack.
Oman Dates
If you have been looking for dates that have smooth skin and great taste, then do give Lagom Oman Dates a try.
These nutritional treats can be had as it is or you can add them to almost every kind of dessert. Whether you are planning to incorporate them in confectioneries, chocolates, or desserts, you will always be amazed by their amazing sweetness. You can also add dates to your breakfast cereal to keep you energetic for the rest of the day.
Lagom Oman Dates are available in 200gm, 500gm and 1 Kg packs and are so delicious that you won't stop at just one.
After you open these dates, you will notice that they have a deep brown colour and shiny surface which is a clear indicator of their premium quality. They also have the perfect texture and sweetness which will make you fall in love with them.
Dates can be a great snack due to their high nutritional value. By incorporating them into your daily diet, you can get a good dose of copper, magnesium, vitamin B6, and proteins. Apart from this dates can also help resolve health issues like constipation, heart disease, diarrhoea, blood pressure, and digestion.
Dates can also be a great option for weight loss as they boost your metabolism and help you burn calories.
Farm to fork
To provide a hundred per cent quality product to our customers, we only source dates from the best farms in Oman. Once the dates are handpicked, they are sent straight to the packaging unit where they are kept in a temperature-controlled environment. This also helps in keeping the dates fresh for as long as possible.
Lagom Oman Dates are packed in an airtight nitrogen-flushed zip-lock pouch which keeps them fresh and helps retain the natural moisture. Along with this the company also follows strict guidelines to keep up with the hygiene standards of the industry.
When you receive the Dates, we recommend putting them in an airtight container in the refrigerator to keep them fresh. By keeping them away from direct sunlight, you will be able to enjoy them for a long.
Additional Information:  
Name of the manufacturer/packer: Lagom Food Labs Private Limited.
Address of the manufacturer/packer: Unit No. 127, Building No. E7, Bhumi World Industrial Park, Pimplas, Bhiwandi, Thane. FSSAI License No.: 11521018000490.
Grievance Offer / Customer Care Manager Contact Details: +91 96-99-953952 | care@lagominc.com
Country of Origin: Oman.
Common/Generic name of the product: Dates/Khajur.
Net Quantity: 

Available in 3 pack sizes - 200g, 500g and 1 Kg.
Best before/Expiry Date: 04-06-2024.
Dimensions of the products:
Net Quantity/Size: 200g: 13cm (L) x 5cm (W) x 21cm (H)
Net Quantity/Size: 500g: 16cm (L) x 6cm (W) x 26cm (H)
Net Quantity/Size: 1 Kg: 21cm (L) x 8cm (W) x 31cm (H)