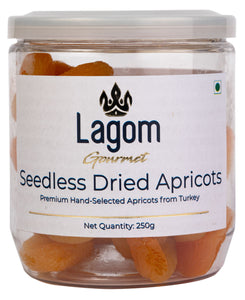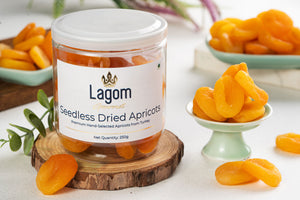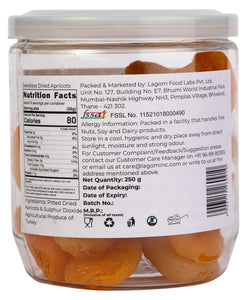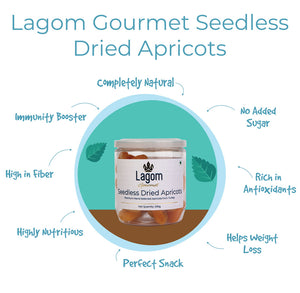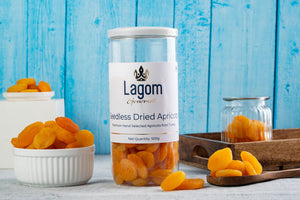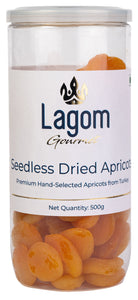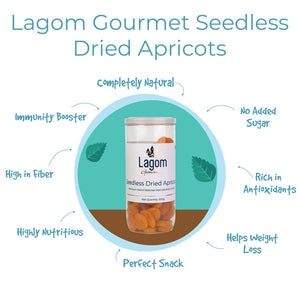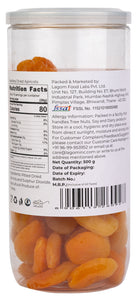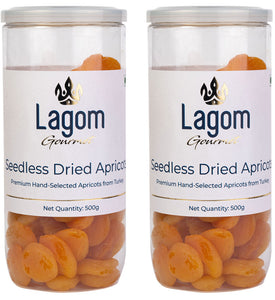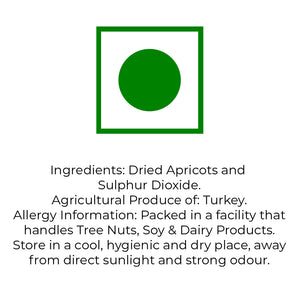 Lagom Gourmet Turkish Dried Apricots (Khubaanee)
M.R.P. (Inclusive of all taxes): ₹449.00

Price:
Price per unit:
Net Quantity: Available in 3 pack sizes - 250g, 500g, and 1 Kg.

Agricultural Produce of Turkey.

Fresh, soft, sweet, and full of flavour. Hand-picked and carefully selected quality.

Zip-lock Pouch with an airtight seal to ensure the product is protected and fresh.

Quality assured - Our products are rigorously tested against the industry's best quality standards.

Hygienically packed in facility meeting FSSAI Food Safety Standards.

Ingredient Type: Vegetarian.

Shelf Life: 8 Months / 240 Days.

Store in a cool, hygienic, and dry place, away from direct sunlight and strong odour in an airtight container after opening the pack.
Turkish Apricot
If you have been wondering about where to buy the sweetest and softest apricots online, then you must try Lagom Turkey Apricot.

These little orange treats are the perfect option when it comes to making desserts. Apricots can be used in many forms, including - adding them to your cereal or muesli for a mouth-watering breakfast or you can use these turkey apricots to make pastries and tarts to satisfy your sweet tooth. But don't restrict apricots to just the desserts because you can also use them as a stuffing for main dishes.

You can get the Lagom Turkey Apricot in 250gm, 500gm, and 1 Kg airtight Zip-lock pouches, and we assure you that you will never look anywhere else once you try these premium quality apricots.

The quality of Lagom Apricots can easily be experienced immediately after opening the pouch. The first thing that you will notice about these delights is their bright color. These apricots are the softest you will ever find and yet they have a little crunch to them as well.

Not to forget apricots like other dry fruits also have many vitamins and minerals in them. These commonly include vitamin A, vitamin D, vitamin C, calcium, iron, and magnesium. Apricots can also be a great way of protecting your heart against various diseases like atherosclerosis, heart attack, and strokes.

Apricots are also considered an antioxidant, and that is why they can help you achieve beautiful-looking skin and good hair quality.
Farm to fork
Lagom apricots are sourced from only the best farms in Turkey and are specially hand-picked to keep the quality standards high. Once the apricots are harvested, they are taken to the processing unit where the temperature-controlled environment allows them to keep fresh for a long. After sorting the apricots, they are packed in an airtight nitrogen-flushed zip-lock pouch.
Additional Information:  
Name of the manufacturer/packer: Lagom Food Labs Private Limited.
Address of the manufacturer/packer: Unit No. 127, Building No. E7, Bhumi World Industrial Park, Pimplas, Bhiwandi, Thane. FSSAI License No.: 11521018000490.
Grievance Offer / Customer Care Manager Contact Details: +91 96-99-953952 | care@lagominc.com
Country of Origin: Turkey.
Common/Generic name of the product: Dry Apricots.
Net Quantity: 

Available in 3 pack sizes - 250g, 500g, and 1 Kg.
Best before/Expiry Date: 31-12-2023.
Dimensions of the products:
Net Quantity/Size: 250g: 9cm (L) x 9cm (W) x 9cm (H)
Net Quantity/Size: 500g: 9cm (L) x 9cm (W) x 18cm (H)
Net Quantity/Size: 1 Kg: 18cm (L) x 9cm (W) x 18cm (H)