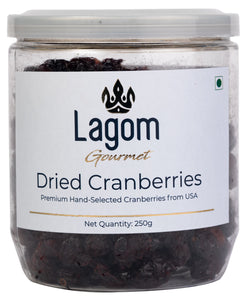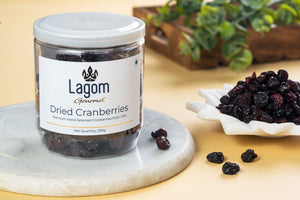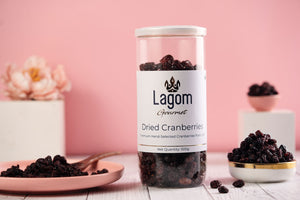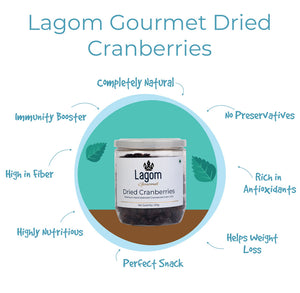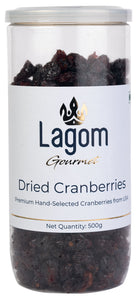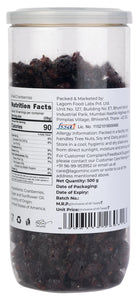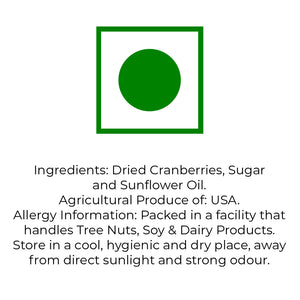 Lagom Classic American Dried Cranberries
M.R.P. (Inclusive of all taxes): ₹349.00

Price:
Price per unit:
Net Quantity: Available in 3 pack sizes - 250g, 500g, and 1 Kg.

Agricultural Produce of USA.

Soft, sweet, and full of flavour. Hand-picked and carefully selected quality.

Zip-lock Pouch with an airtight seal to ensure the product is protected and fresh.

Quality assured - Our products are rigorously tested against the industry's best quality standards.

Hygienically packed in facility meeting FSSAI Food Safety Standards.

Ingredient Type: Vegetarian.

Shelf Life: 9 Months / 270 Days.

Store in a cool, hygienic, and dry place, away from direct sunlight and strong odour in an airtight container, and preferably refrigerate after opening the pack.
Dried Cranberries
If you are looking for dried premium quality cranberry, then look no further than Lagom Dried Cranberries.
Full of nutritional value our cranberries can be had just like that, or you can use them for various food preparations. You can add these dried berries to your cakes and cookies for a wonderful texture, or you can make your very own chocolates using these little delights. You can also use cranberries for smoothies and milkshakes.
Lagom Dried Cranberries are available in 200gm, 500gm, and 1 Kg packs and are so delicious that they will keep you coming back for more.
As you open the pack, you will notice that our cranberries keep their bright red colour intact and are sorted according to size to give you the best quality product. Each of them also has the perfect texture and bite.
Not to forget, Cranberries are also high in minerals and nutritional values which make them great for your health. They are a great source of vitamin C, fibre, manganese, vitamin E, and copper. Cranberries can also prove to be very useful in preventing cancer, dental problems, and cardiovascular diseases.
Farm to fork
Lagom Dried Cranberries are seasonally sourced and are hand-picked from only the best farms in the United States. The berries are then taken straight to the packaging unit where they are stored in a climate-controlled environment to keep them fresh for a long. To maintain the quality of the product Lagom Dried Cranberries are sealed in airtight nitrogen-flushed zip-lock pouch. All the packaging is done keeping the industry standards in mind, and the company also takes precautionary measures to maintain hygiene levels at all times. 
The product does not contain any sort of chemical or preservative.
Once you open the cranberries, they can easily be stored in an airtight container and enjoyed for a long time.
Additional Information:  
Name of the manufacturer/packer: Lagom Food Labs Private Limited.
Address of the manufacturer/packer: Unit No. 127, Building No. E7, Bhumi World Industrial Park, Pimplas, Bhiwandi, Thane. FSSAI License No.: 11521018000490.
Grievance Offer / Customer Care Manager Contact Details: +91 96-99-953952 | care@lagominc.com
Country of Origin: United States of America.
Common/Generic name of the product: Dry Cranberry.
Net Quantity: 

Available in 3 pack sizes - 250g, 500g, and 1 Kg.
Best before/Expiry Date: 31-12-20223
Dimensions of the products:
Net Quantity/Size: 250g: 9cm (L) x 9cm (W) x 9cm (H)
Net Quantity/Size: 500g: 9cm (L) x 9cm (W) x 18cm (H)
Net Quantity/Size: 1 Kg: 18cm (L) x 9cm (W) x 18cm (H)