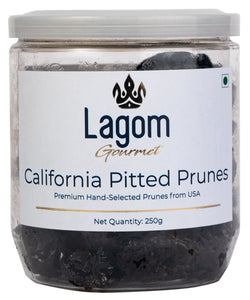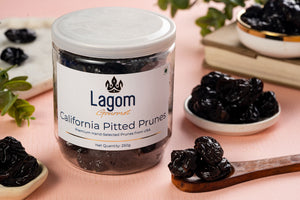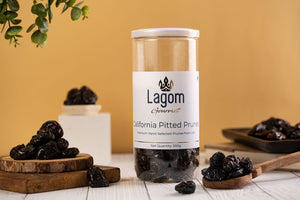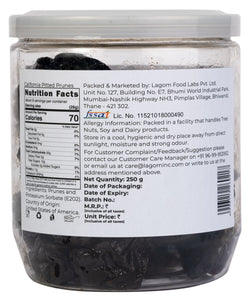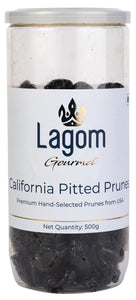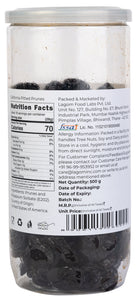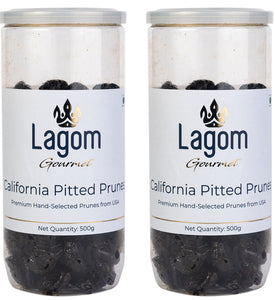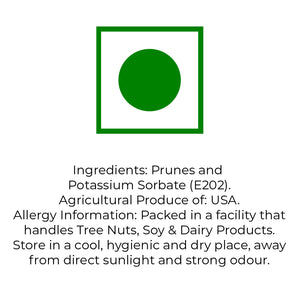 Lagom California Pitted Prunes
M.R.P. (Inclusive of all taxes): ₹399.00

Price:
Price per unit:
Net Quantity: Available in 3 pack sizes - 250g, 500g, and 1 Kg.

Agricultural Produce of USA.

Soft, sweet, and full of flavour. Hand-picked and carefully selected quality.

PET Can with an airtight seal ensures the product is protected and fresh.

Quality assured - Our products are rigorously tested against the industry's best quality standards.

Hygienically packed in facility meeting FSSAI Food Safety Standards.

Ingredient Type: Vegetarian.

Shelf Life: 9 Months / 270 Days.

Store in a cool, hygienic, and dry place, away from direct sunlight and strong odour in an airtight container, and preferably refrigerate after opening the pack.
Pitted Prunes
If you are looking for the freshest premium quality prunes then go only to the premium place and opt for Lagom Prunes.
These wholesome delights pack the highest level of nutritional value out of all the other dry fruits and can be used for cooking as well. Whether you are planning to make a dessert or a savoury dish, you can always use prunes in different ways. You can incorporate prunes in your main course stuffing or add them to your muffins.
Lagom Prunes come in 250gm, 500gm, and 1 Kg pack sizes. These prunes are so delicious that you would keep coming back for more.
Prunes are one of the most nutritious dry fruits and they include vitamins like vitamin A, vitamin B, vitamin C, iron, magnesium, and calcium. Prunes can also prevent constipation and low blood pressure which can turn into a major health issue over time. Including prunes in your daily diet can help you achieve strong bones as they are high in calcium and that is why they are especially great for women. Not to mention, prunes can help you control your bladder urges and protect you against urinary tract infections.
Farm to fork
Lagom Prunes are premium quality handpicked dry fruits that are sourced only from the best farms in California, USA. To ensure that the quality standard is not compromised prunes are harvested at just the right time. After harvesting the prunes they are all sent straight to the packaging unit where they are dried. After receiving the prunes at the packaging facility, the prunes are sorted and packaged in airtight nitrogen-flushed zip-lock pouches, which help preserve the natural taste and freshness.
Lagom is known for paying special attention when it comes to maintaining hygiene standards and it also follows all the regulations set by the industry.
Once you open the pack you must store the prunes in an airtight container so that they remain fresh till the last.
Additional Information:  
Name of the manufacturer/packer: Lagom Food Labs Private Limited.
Address of the manufacturer/packer: Unit No. 127, Building No. E7, Bhumi World Industrial Park, Pimplas, Bhiwandi, Thane. FSSAI License No.: 11521018000490.
Grievance Offer / Customer Care Manager Contact Details: +91 96-99-953952 | care@lagominc.com
Country of Origin:

 

United States of America.
Common/Generic name of the product: Prunes/Dry Plums.
Net Quantity: 

Available in 3 pack sizes - 250g, 500g, and 1 Kg.
Best before/Expiry Date: 31-12-2023.
Dimensions of the products:
Net Quantity/Size: 200g: 9cm (L) x 9cm (W) x 9cm (H)
Net Quantity/Size: 500g: 9cm (L) x 9cm (W) x 18cm (H)
Net Quantity/Size: 1 Kg: 18cm (L) x 9cm (W) x 18cm (H)