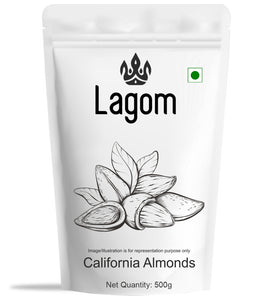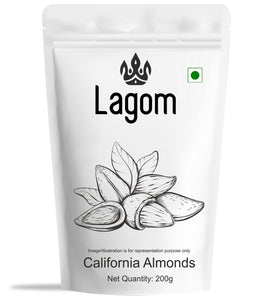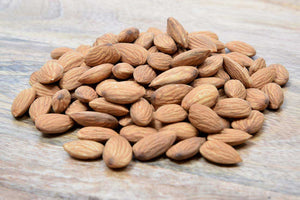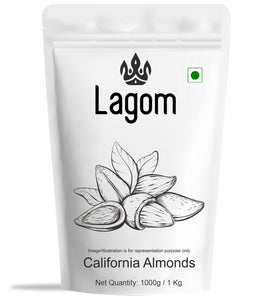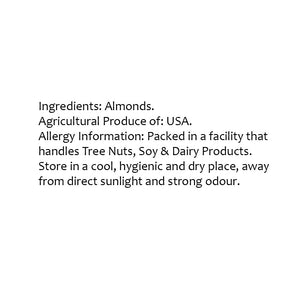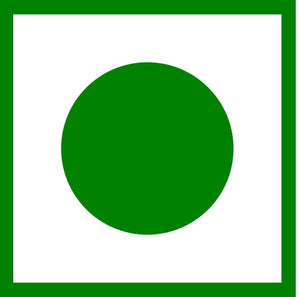 Lagom California Almonds (Baadaam)
M.R.P. (Inclusive of all taxes): ₹599.00

Price:
Price per unit:
Net Quantity: Available in 3 pack sizes - 200g, 500g and 1 Kg.

Agricultural Produce of USA.

Fresh, Crunchy and nutty. Hand-picked and carefully selected quality.

Zip-lock Pouch with an airtight seal to ensure the product is protected and fresh.

Quality assured - Our products are rigorously tested against the industry's best quality standards.

Hygienically packed in facility meeting FSSAI Food Safety Standards.

Ingredient Type: Vegetarian.

Shelf Life: 9 Months / 270 Days.

Store in a cool, hygienic and dry place, away from direct sunlight and strong odor in an airtight container and preferably refrigerate after opening the pack.
California Almonds
 If you are looking for almonds that have a crunchy texture and freshness to them, then we recommend trying Lagom Almonds.
Wholesome and delicious, our crunchy almonds can either be taken as they are or you can soak them overnight and mix them in your morning milk. You can also add them to your dishes, dressings, and milkshakes. Not to mention, grated almonds always serve as a great topping for desserts. Being rich in nutrients, almonds are great for your skin, hair, and of course, your health.
Available in 200gm, 500gm and 1 Kg variations, Lagom almonds are so delicious, they will only make you want more.
As you open almonds from their securely packaged pouch, you will notice that they have a smooth surface and thin skin. They have the perfect colour with a satisfying crunch.
Not to mention, these tiny treats pack a really big punch of nutrition with a considerable dose of calcium, fibre, vitamin E, proteins, antioxidants, and other vitamins and minerals as well. Being high in nutrients and energy, they can help avoid heart disease, diabetes, cancer, and dental problems.
Taking almonds every day can help you with weight loss by preventing overeating, supporting brain function, increasing digestion, and maintaining healthy skin.
Farm to fork
Seasonally sourced from only the best farms in California, USA, Lagom almonds are handpicked and taken straight to the processing unit. Maintained in a temperature-controlled environment, we select the best almonds and pack them in an airtight nitrogen-flushed zip-lock pouch so that when you open the pack, they are as good as new. Packaging is an incredibly important part of the whole process, and that is why we take special precautions to make sure we follow all the standard industry regulations.
Our almonds come in varying sizes so you can pick one according to your requirements. There are no chemicals or preservatives added during our process to keep them natural.
Once the pack is opened, you can store them in an airtight container and place them in your pantry. These almonds will stay fresh for a very long time.
Additional Information:  
Name of the manufacturer/packer: Lagom Food Labs Private Limited.
Address of the manufacturer/packer: Unit No. 127, Building No. E7, Bhumi World Industrial Park, Pimplas, Bhiwandi, Thane. FSSAI License No.: 11521018000490.
Grievance Offer / Customer Care Manager Contact Details: +91 96-99-953952 | care@lagominc.com
Country of Origin: United States of America.
Common/Generic name of the product: Almonds/Badam.
Net Quantity: 

Available in 3 pack sizes - 200g, 500g and 1 Kg.
Best before/Expiry Date: 31-12-2023.
Dimensions of the products:
Net Quantity/Size: 200g: 13cm (L) x 5cm (W) x 21cm (H)
Net Quantity/Size: 500g: 16cm (L) x 6cm (W) x 26cm (H)
Net Quantity/Size: 1 Kg: 21cm (L) x 8cm (W) x 31cm (H)